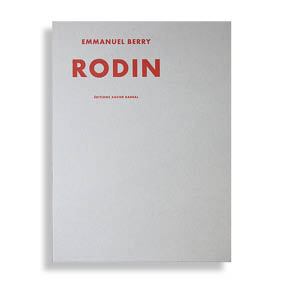 Rodin. Emmanuel Berry
05/01/2017
Focusing on the textures, lines and contours that shape the sculptures of Rodin, Emmanuel Berry immerses us in the creative process of the sculptor.
Following a rigorous protocol: the sculpture is isolated on a black background, illuminated by natural light, the photographer is examining both the studies and more personal, unfinished works from Rodin as well as iconic sculptures such as Le Baiser, Balzac, or Le Penseur. Emmanuel Berry reveals in this way, through these models and casts, Rodin's work in a new light.
Throughout his career, Rodin maintained a special relationship with the photographic medium. He was probably one of the first artists to understand the importance of photography in order to better promote his sculptures, thus leaving in his wake a vast array of documentary. Moreover, his sculptures have inspired a large number of photographers from the Pictorialists through contemporary artists like Emmanuel Berry.
Publisher: XAVIER BARRAL. 2016. Hardcover in a slipcase. 23×31 cm. Pages: 120. Language: English/french. BW illustrated. PVP:€ 35,00. ISBN: 978-2-36511-105-8